[Please note that this article was originally published on LAC PropertyChain official website]
The Inter-American Development Bank (IDB) has engaged ChromaWay on a two-year project in Peru, Paraguay, and Bolivia on an initiative titled "Distributed Ledger Technology (Blockchain): The Future of Land Titling and Registry." The primary goal of the project is to evaluate how blockchain technology can contribute to solving some of the most pressing problems of land administration in South America.  The effort seeks to engage a consortium of urban and rural land registries, banks, notaries, and other government agencies to pilot a project in the three countries.
The project will be closely aligned with IDB Lab, the innovation laboratory of the Inter-American Development Bank (IDB) Group and LAC-Chain, an alliance to promote the use of blockchain in Latin America and the Caribbean. ChromaWay will leverage its experience on closely related projects that include Sweden, Canada, India, and Australia. The blockchain company will also partner with Jalasoft, a leader in systems development and integration in South America.
About the Blockchain and Land Administration
Given the hype associated with blockchain, it's easy to understand why the mechanics and benefits of this emerging technology are sometimes hard to understand. One of the primary goals of the project is to work with stakeholders to cut through the confusion with specific training and development and use of a hand-on application prototype.
At its most basic level, blockchain is literally just a chain of blocks, but not in the traditional sense of those words. When we say the words "block" and "chain" in this context, we are actually talking about digital information (the "block") stored in a database (the "chain"). Blocks store information about transactions (e.g., date, time, amount, etc.), who is participating in a transaction, and information about what distinguishes specific block data from other block data.
Blockchain technology is particularly applicable to public-oriented data repositories where disparate parties submit, review, and add records and where accuracy, security, and transparency are a priority. Land registration is considered an important use case as the chain of ownership title can be maintained using blockchain protocols. An important related technology used in conjunction with blockchain is smart contracts. If blockchain is the immutable database, then smart contracts are the secure delivery mechanism to submit information to the blockchain.
Benefits of Participation
Engagement with the project will have a number of benefits.  In the table below we highlight both the individual and institutional benefits.  Though some areas are overlapping, we believe there are multiple benefits to participating in this exciting project.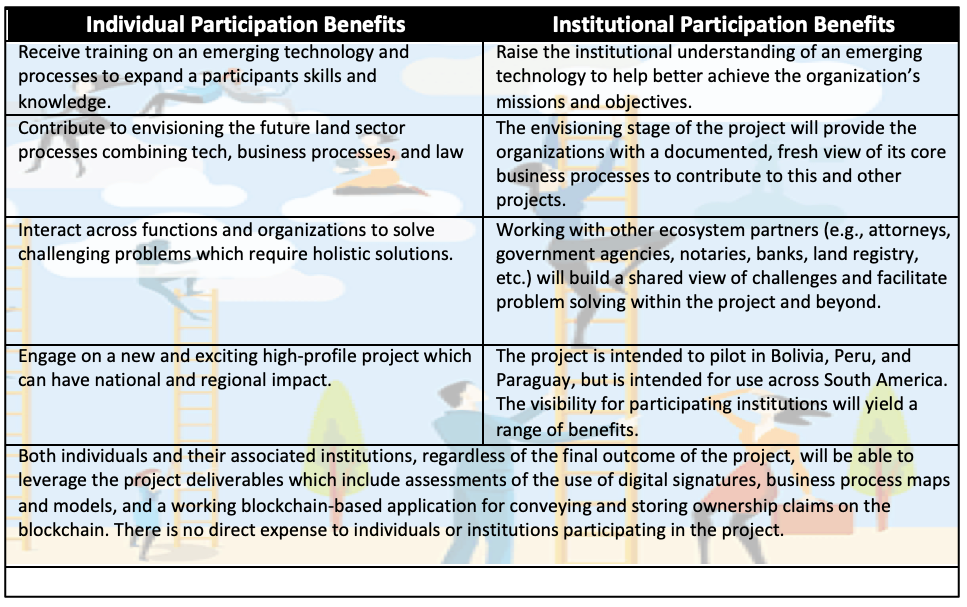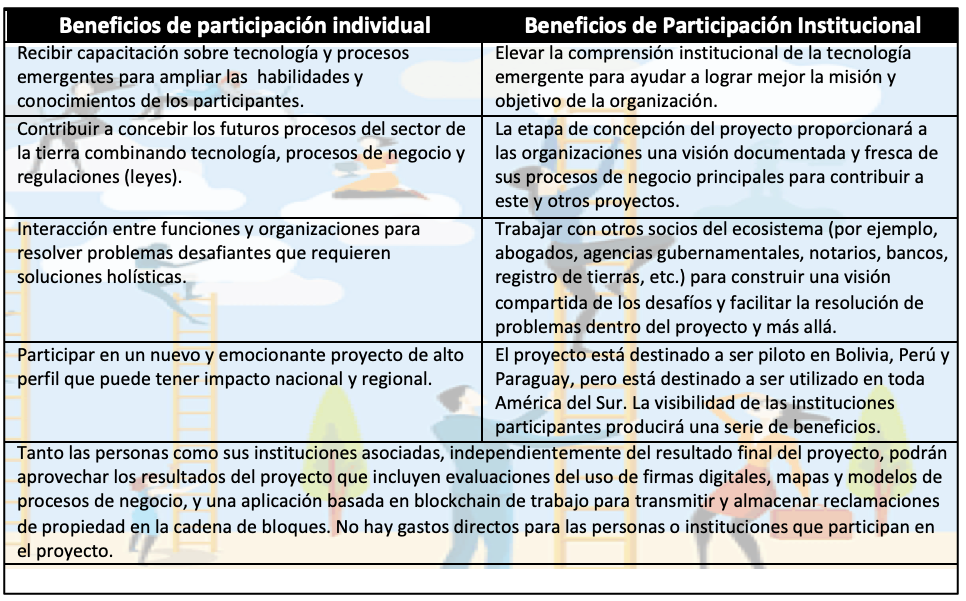 If you would like to learn more about participating in the project, please contact us at info@lacpropertychain.com.