VP Todd Miller together with co-authors Rohan Bennett and Mark Pickering from Swinburne University of Technology (AUS) and Al-Karim Kara, the President and CEO of the Land Title and Survey Authority of British Columbia (CA) published a paper "Hybrid Approaches for Smart Contracts in Land Administration: Lessons from Three Blockchain Proofs-of-Concept" in the journal Land. The paper is based on ChromaWay land innovation projects in Sweden, Australia, and Canada. The full paper can be accessed here. Below we provide the abstract from the article in a Special Issue "Land, Innovation, and Social Good."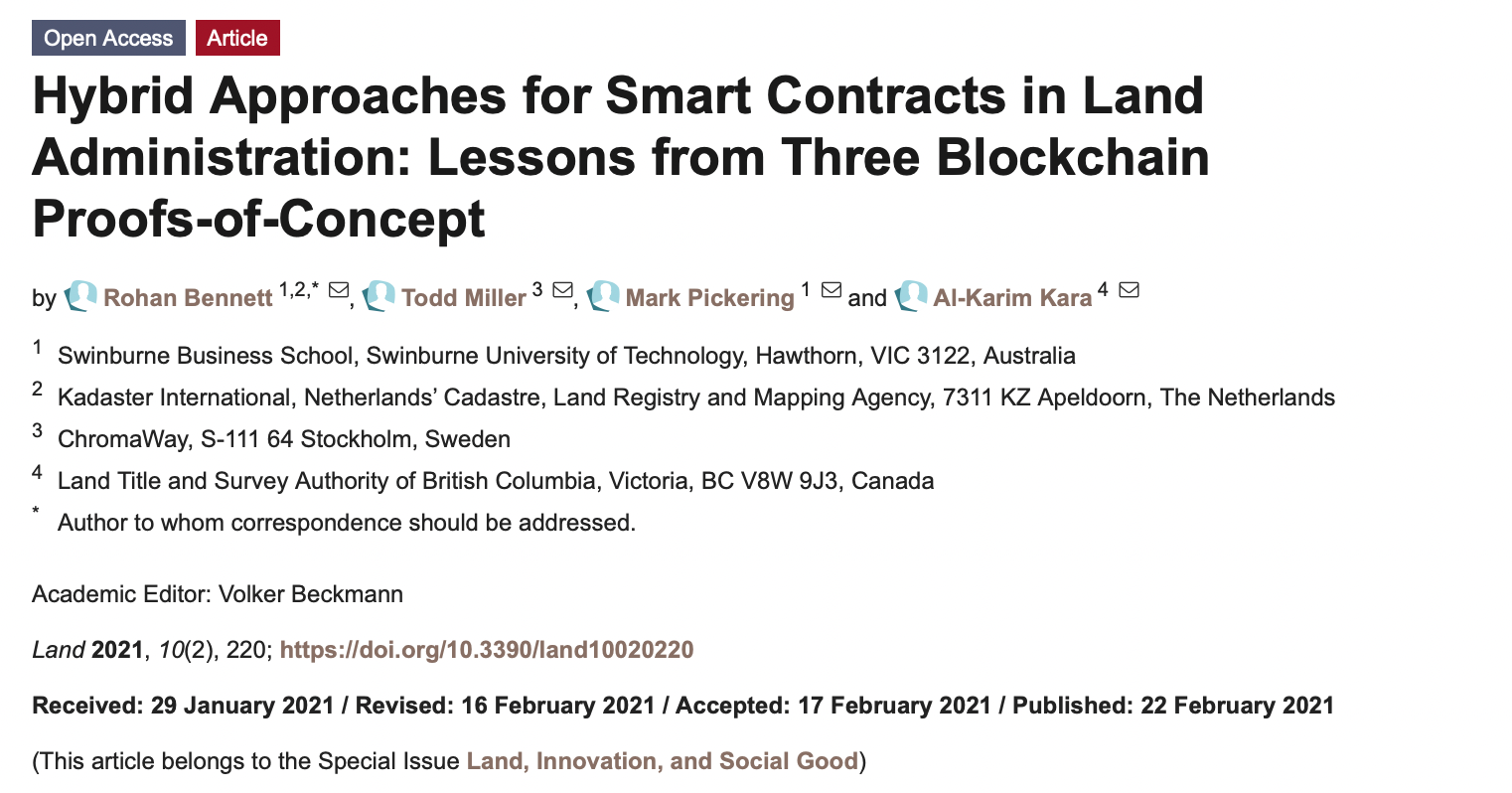 The emergence of "blockchain" technology as an alternative data management technique has spawned a myriad of conceptual and logical design work across multiple industries and sectors. It is also argued to enable operationalization of the earlier "smart contract" concept. The domain of land administration has actively investigated these opportunities, albeit also largely at the conceptual level, and usually with a whole-of-sector or "big bang" industry transformation perspective. Less reporting of applied case applications is evident, particularly those undertaken in collaboration with practicing land sector actors.
That said, pilots and test cases continue to act as a basis for understanding the relative merits, drawbacks, and implementation challenges of the smart contract concept in land administration. In this vein, this paper extends upon and further refines the existing discourse on smart contracts within the land sector, by giving an updated, if not more nuanced, view of example applications, opportunities, and barriers.
In contrast to the earlier works, a hybrid solution that mixes smart contract use with existing technology infrastructure—enabling preservation of the role of a land registry agency as the ultimate arbiter of valid claims—is proposed. This is hypothesized to minimize disruptions, whilst maximizing the benefits.
Examination of proof-of-concept work on smart contract and blockchain applications in Sweden, Australia (State of New South Wales), and Canada (Province of British Columbia) is undertaken. Comparative analysis is undertaken using several frameworks including: (i) business requirements adherence, (ii) technology readiness and maturity assessment, and (iii) strategic grid analysis.
Results show that the hybrid approach enables adherence to land dealing business requirements and that the proofs-of-concept are a necessary step in the development trajectory. Furthering the uptake will likely depend on again taking a whole-of-sector perspective, and attending to remaining issues around business models, stakeholder acceptance, partnerships and trust building, and legal issues linked to data decentralization and security.
Read the full article here: https://www.mdpi.com/2073-445X/10/2/220